Building the Foundation of the Next Generation of Freestyle Athletes
Empowering the next generation of athletes. We have developed coaching methods from the ground up, utilising aspects from traditional olympic trampolining with a freestyle touch to have more specific carry over into the world of freestyle action sports. SITE offers beginner, intermediate and advanced classes. Starting with the basics of air awareness, agility, balance and safety, all the way up to coaching olympians.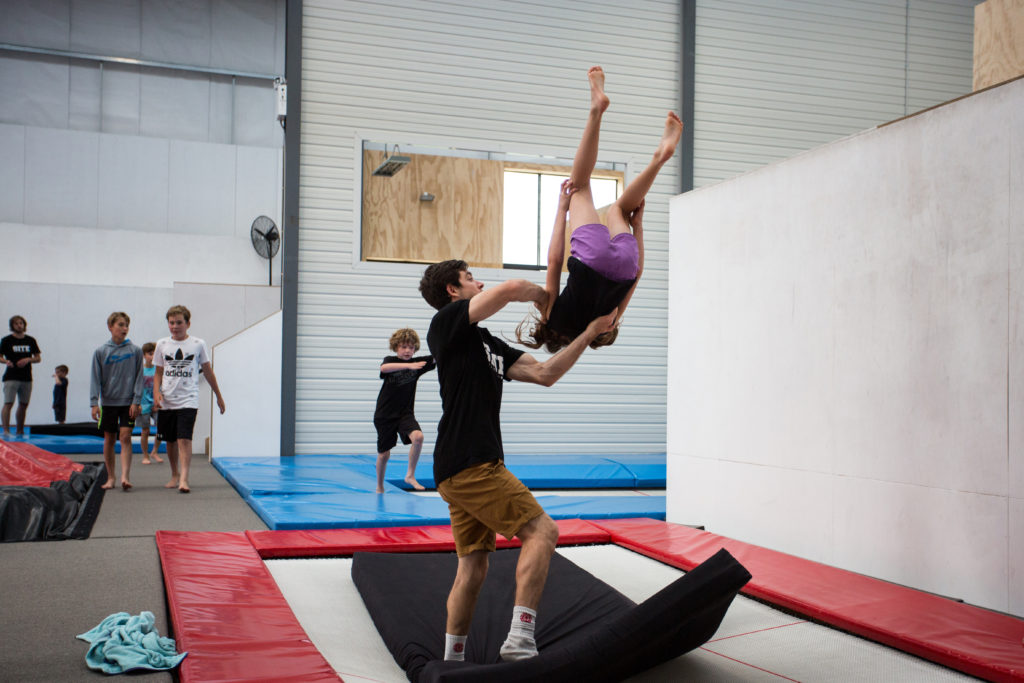 SITE's after school trampoline lessons span the range from kids learning how to gain coordination, self-awareness, and how to behave in a group environment, all the way up to top athletes that are landing on international podiums.
Our beginner classes (3:30 - 4:30 pm) focus on learning the basics of how to safely trampoline, how to fall, and the fundamental skills that will eventually lead to bigger tricks. Our classes have roughly 20 kids and 4 coaches with access to all of our trampolines, foam pit and air bag.  In this class you can expect your child to learn everything from seat drops leading up to preparations for flips, and in some cases, front or back flips for especially progressive younger students.
Our intermediate classes (4:30 - 5:30 pm) continue to focus on the fundamentals to build a solid skill set to have students succeed in more advanced tricks. This class picks up where the beginner class left off and builds up to the basics flips as well as thematic skills such as building power on takeoff, performing skills at different heights, and linking tricks together.
Our advanced trampoline classes (5:30 - 6:30 pm) cover the widest array of skill sets and focuses. As students reach this class, they are asked to pick a focal point, being either skiing, snowboarding, or freestyle trampolining. Depending on their discipline they will have different challenges and coaching methodologies that are applied to help them succeed. This class accommodates students learning their first off axis flips all the way to students learning quadruple and quintuple flips.
AFTER SCHOOL TRAMPOLINE LESSONS FEATURES
Super Tramps, Olympic tramps, wall features, Tramp Park, foam pit, and air bag
Bespoke trampolining programme that has been improved and adjusted constantly since 2012
4 Freestyle trained trampoline coaches per class
High-level coaching / personalised approach
High focus on health and safety
Inclusive and fun environment
Who it's for
Beginner classes - age 5 to 12 (flexible based on previous skill and attitude)
Intermediate classes - age 8 to 14 (flexible based on previous skill and attitude)
Advanced classes - age 10 to 17 (flexible based on previous skill and attitude)
When it runs
Following the school term (typically 10 weeks)
Monday to Thursdays
Beginner classes - 3:30 - 4:30 pm
Intermediate classes - 4:30 - 5:30 pm
Advanced classes - 5:30 - 6:30 pm
What to bring
Drink bottle
Athletic clothing
Good attitude
What it costs