Experiences at SITE cover a wide span. There is an experience for everyone, from mini bouncers learning coordination to Olympians preparing for their next competition, and everyone in between.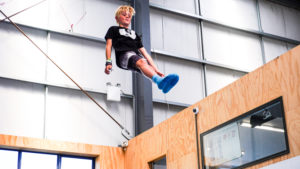 Freestyle Trampoline focuses on the wider spectrum of skills that are physically possible and includes not just difficult skills, but creativity as well.
Still utilising the fundamentals from traditional and olympic trampolining but with more freedom and creative flare.
Our knowledgeable coaches are always on the floor, should you need any help with anything.
Whether you're a first time jumper or freestyle expert, we have something for everyone.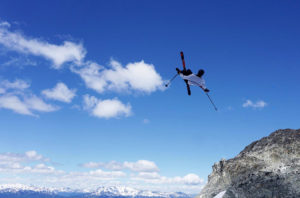 The huge progression in freestyle skiing and snowboarding in recent years has been assisted greatly by the use of trampolines. Trampolines let you get more repetitions while eliminating variables so you can quickly and easily troubleshoot problems in technique and train your mind and body how the trick works and feels before taking it to the snow.
SITE coaches specialise in trick to terrain coaching which means they can assist you every step of the way to get you landing your tricks on snow.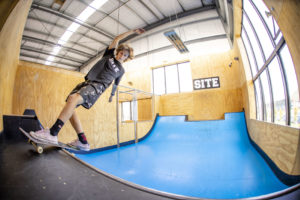 Skateboarding has changed a lot in recent years with its introduction into the olympics. The strong culture still remains but now it is recognised as more of a sport and can incorporate more of a sports mentality with coaching and progression methods.
At SITE we have developed and built interchangeable skate ramps to suit any level of skater as well as implementing our coaching knowledge to create a youth Skate Lesson Programme.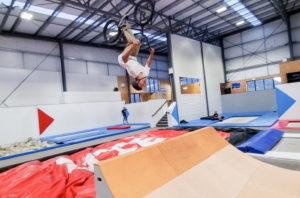 We have seen trampolines used as training tools for most action sports where tricks are done in the air, and biking is no different. If you want to learn to jump a bike, using trampolines can help to work on air awareness, body positioning and to learn new tricks and flips.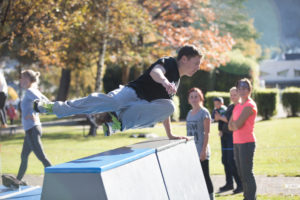 Parkour and freerunning are fantastic tools for learning how to crash and disperse your energy safely, which we feel is a key skill to progression.
While these sports are great support skills for other freestyle sports, they are also great in their own right and can open the world up to you. You will see opportunity everywhere you go to test out your skills.
We have air tracks, vaults, and other items on the floor that can help you progress your parkour and freerunning skills.
We also run after school parkour lessons on Thursdays.